How to Become a Marketing Manager?
Mark Ronson
If you are new in practical life and bombarding Google with queries like how to become a marketing manager, you would get answers like the one shown in the image below.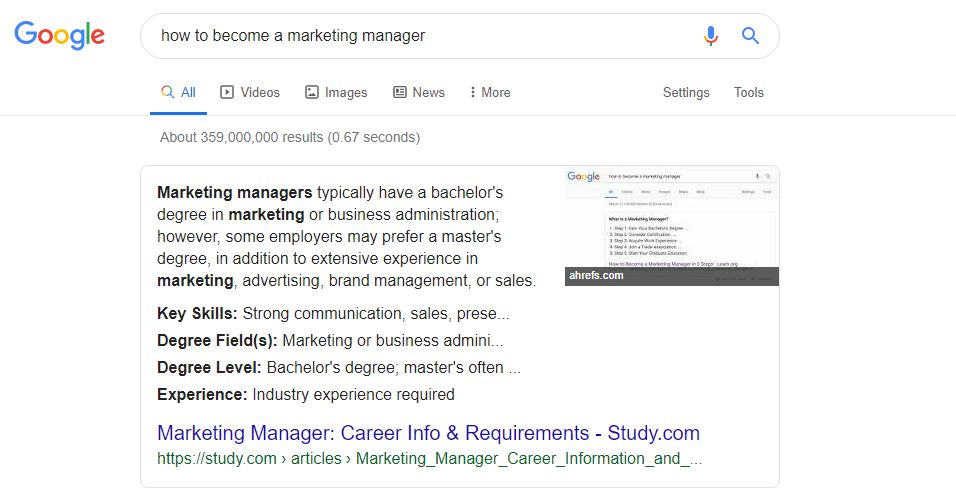 According to Google, to become a marketing manager, you need to have at least a Bachelor's degree. Well, I will not say that Google is wrong, but yes, this requirement is quite outdated. 
Some organizations, still, ask for a Bachelor's degree while hiring marketing managers. But as an experienced marketer, I can tell you that today, you don't need to be a Bachelor's degree holder anymore for this position. 
However, there is not a single one-size-fits-all path that all wanna-be marketing managers can take. In fact, there are unlimited ways to reach this position. 
In this blog, instead of discussing these different ways briefly, I would rather opt to elaborate on one of the fastest ways that lead you to the path of becoming a marketing manager. 
Before we start discussing that, let me touch a couple of other things.
Questions a Wanna-Be Marketing Manager May Have in Mind:
If you are starting your career in marketing and impressed by all the marketing managers out there, you may have some questions in your mind. 
Some of these questions could be:
Education: Do I need a specific degree to become a marketing manager? (Yes, we have already discussed it). 
Time: How long does it take someone to become a marketing manager?
Money: Do marketing managers earn handsome?
Requirements: For becoming a marketing manager, are there any particular requirements?
Expectations: What skills do senior management and marketers expect in a marketing manager?
Fun: Is it fun to be a marketing manager?
Well, you have all the right to get the answers for these questions and don't worry, keep reading this blog and you will find what you need to know.
Reasons for Becoming a Marketing Manager:
Many of you would want to become a marketing manager, but how many of you actually know why they want to?
Well, if you know the reason why you want to be a marketing manager, move on to the next section, but if you are not clear yet, this is for you. 
Trust me, being in marketing as a manager is really fun and you gonna love it!
Money Making:
Marketing managers are at No. 14 in the best-paying jobs' list by the U.S. News & World Report. 
Depending on the location, according to the stats of 2017, the average salary of a marketing manager is $145,620.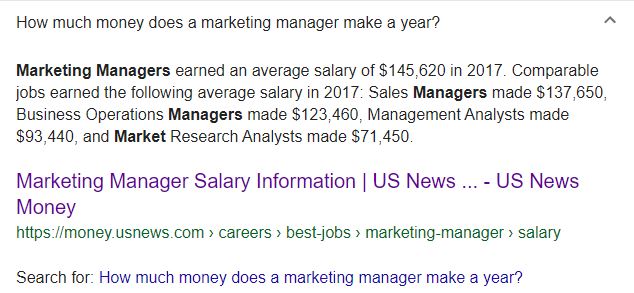 Is it good enough for you?
Fast Career Growth:
There is not an actual point where your salary stops. You can easily connect your salary to the revenue of the company, work smart, meet your KPIs, get results, and continue increasing your salary. 
In fact, you can move up to a point where you can have a share in the company you have been working for. 
Position in Demand:
There is literally a lot of scope for good marketing managers, the keypoint is good. 
If you know your work and can do it smartly to bring results, you can easily land a lucrative marketing manager position. 
Flexibility in Life-Style:
No matter if you want to do an office job or you are more interested in freelancing – full time or part-time – you can find a lot of gigs according to your interest. 
You can pursue your career from any part of the world provided you have a good internet connection.
Well, after all these points, don't start thinking of it something like all rainbows and unicorns. To be a marketing manager is really stressful at times as you are responsible for meeting the KPIs. And it could be more than a little hectic for you to maintain a work-life balance. 
But, it's still rewarding than scary. You'll know it in the coming sections. 
What is the Role of a Marketing Manager in a Company?
Have you ever asked a marketing manager about their work routine? What do they do all day long? Try asking them, and trust me, you'll leave confused more than ever. 
There are two reasons for this:
Marketers, usually, use a lot of jargon while conversing.

But more importantly, they are engaged in various different things. 
Now, your second option to find this answer would be Google. Right?
Unfortunately, it is quite hard to find the correct answer to this question on Google either. Most answers you'll find there are outdated or about the times when there was no internet. 
But, you do NEED an answer to this question. Don't you?
As you have asked, and I want you to know, let me give you the most up-to-date yet the simplest answer, It depends. 
Surprised?
Well, it depends on the company you are working for; is it a big corporation or a medium or a small-sized business. 
If you are working with a large corporation, you would most likely be the head or a manager of a specialized area like Social Media Marketing Manager. 
On the other hand, if you are working for a small company or a startup, you'll be most likely responsible for more than one role. For instance, you'll not only be managing social media but SEM and inbound marketing will be under you as well.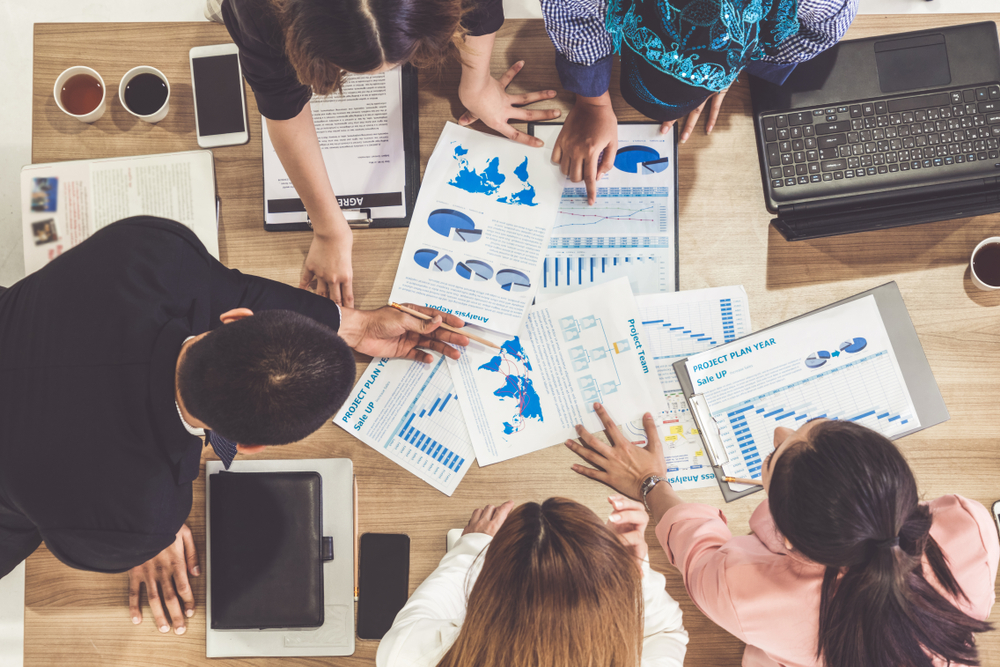 In this part, I will only discuss the part of jobs that every marketing manager does. 
One of the most important parts of a marketing manager's job is to find ideas to grow the company's business. Not only find ideas but also execute them (run and manage various campaigns), then analyze the reports of these campaigns to improve and do better. 
Speaking technically, this is implementing and reporting on marketing initiatives. 
Managing and running such campaigns usually require additional resources, and thus, marketing managers are also involved in outsourcing and collaborating. 
Marketing managers are also responsible for ensuring that their sales teams are getting enough leads and the content team is occupied with sophisticated tools to attract customers. 
Some of the things marketing managers are responsible for include:
Development of multi-channel marketing plans.

Analyze the results of marketing initiatives. 

Communicate with departments responsible for production. 

Proactively evaluate and adopt new marketing opportunities. 

Set and manage strategies for long and short-term goals.
Skills Required by Marketing Managers:
To become a marketing manager, you should have some skills. These skills can be God-gifted, but you can develop them as well. 
Analytical Skills:
In today's competitive world, there is a huge shift from qualitative to quantitative marketing, and thus, it has made this skill a must-have requirement for a good marketing manager. 
This skill helps marketers in analyzing large amounts of available data and understand the behavior of their customers. It helps in designing future marketing strategies. 
Critical Thinking:
This is, I believe, one of the most important skills you need to have if you want to become a marketing manager. 
It is the ability to analyze a situation and determines its validity. Critical thinking helps in enhancing creative thinking which is useful in problem-solving. 
Able to See The Big Picture:
It is important for a marketing manager to look at the big picture. Marketing managers should be able to have a look at all aspects of marketing – from trade shows to Twitter – and manage the things smartly as a whole. 
This skill is helpful in spotting new trends even before they enter the mainstream. 
Detail Oriented:
Marketing managers need to see the big picture but at the same time, they need to be detail-oriented. 
When you are able to capture the details of the vision of your project and relate it to your team, you are actually making your project a top-performing one.  
Have Hard Skills:
A good marketing manager should have some specific hard skills. 
If you are wondering, what hard skills are, let me tell you. 
Hard skills are the abilities that can be taught and measures such as reading, writing, typing, math, and the ability to use various software programs. 
These are much easier to develop as compared to soft skills. 
Digital Advertising Skills:
When you want to be a digital marketing manager, you MUST have digital advertising skills. This is one of the most in-demand skills. 
Typically, it includes paid social media ads including ads for Facebook, Twitter, LinkedIn, Instagram, etc. It also includes Adwords and retargeting campaigns. 
As a noob, you can start gaining the digital advertising experience with Facebook. 
Content Marketing:
After digital advertising, the second most in-demand skill for a person who wants to become a marketing manager is content marketing. 
It is the ability to think of content ideas, create and curate it. The job of a content marketer is to create and distribute content in the form of blogs, videos, infographics, and much more. 
The purpose of content is not to promote a company, instead, it is targetted towards answering the questions of the target audience. 
The idea behind this is that when you educate your audience instead of spamming them with promotions, you can convert them easily into loyal customers.  
Quote – "Marketing is not the art of finding clever ways to dispose of what you make. It is the art of creating genuine customer value." ― Philip Kotler
Tools Marketing Managers Use:
As a marketing manager, you have to use a lot of software and tools. These tools are helpful in:
Scheduling content ahead of time

Automation
Marketing Automation: 
Automation tools help in automating repetitive tasks such as sending emails to your list and scheduling various lead campaigns. 
There are a number of automation tools available including HubSpot, Zapier, Marketo, and etc.  
SEO:
I, personally, think that SEO tools are the most interesting ones. You can do a lot of experiments with these tools. 
As a marketing manager, you would need SEO tools for keyword research, link building, analyzing keywords, optimization of content, link building, etc. 
Ahrefs, Moz, SEMRush, SEMSCOOP are some of the popular SEO tools marketing managers like to use. 
Email Marketing:
Email marketing is one of the most important marketing techniques all marketing managers use. Therefore, tools that help in performing these tasks are really important to know for a marketing manager. 
There are various email marketing tools available in the market and managers use them according to the requirements of their company. 
Social Media Marketing:
For scheduling posts and campaigns on social media, marketing managers use this tool. Some of the leading tools in this category are:
Buffer

BuzzSummo

Bitly

Mention etc. 
Content Marketing:
To plan, write, and publish content, you need a good content marketing tool. For instance, Medium, WordPress, Trello, Google Docs etc. are some most important tools for content marketing. 
There are many other tools as well that a person who wants to become a marketing manager should know how to use. 
It is not easy to start walking on the path of becoming a marketing manager. You would need to learn to use many tools and the best thing about it is that this learning process never stops.  
Conclusion:
Now, this is your turn to shine as a marketing manager in the industry. 
The process is simple, all you need is dedication, hard work, and determination.