Best Online Courses for SEO – Top Picks for 2021
Mark Ronson
Are you a new marketer? Are you looking for best online courses for SEO? Do you want to build your brand but are afraid that you will make mistakes that will affect the rankings of your website? Well, look no further because we got you.
With Google updating its algorithm regularly, the field of digital marking is also revolutionizing rapidly. Therefore, the old tactics and tricks are no longer up to date and now you need to learn a thing or two to improve your website.
Search Engine Optimization (SEO) is increasing quality and quantity traffic to your website by ranking it high on the search engines. Therefore, with the help of one of the best online courses for SEO, you can actually increase your website traffic and boost your business.
As a result, it is really important to devise a competent and resilient SEO strategy to bloom your business. That being said, whether you are old or new to the world of SEO, you can always improve your knowledge in this field. For that very purpose, multiple guides and courses are available online.
Best Online Courses for SEO:
SEO is quite a wide field. Online courses for SEO helps you to study various aspects. These courses help you to keep up with Google's constantly changing algorithms and rules. In reality, these courses are an investment that gives your brand visibility on the web. In this article, we bring you the best online courses for SEO that will improve your SEO skills.
If you are new to the world of digital marketing and still struggling with all that is around you, this is one of the best online courses for SEO for you. Firstly, this is a beginner's level course which teaches you the fundamentals of SEO. Moreover, it starts by teaching you how a search engine works.
However, this does not mean that it is only for beginners and does not have any depth. This course is divided into 3 basic sections.
The first section deals with the Introduction with SEO. The second one teaches you about content SEO and the final part gets a bit advanced as it is about technical SEO.
We encourage you to get enrolled in this course as it is a free course. Most importantly, it teaches you all you need to know about SEO in simple language without boasting technical language. It teaches you how all the components in SEO work together. Briefly, it builds a strong base for SEO understanding.
This course by Moz is offered through the platform of Udemy. It is one of the most popular online courses for SEO. This course has more than 200 thousand enrolled students and it has a rating of 4.3/5. The course is carefully planned by the Moz team and the presenter is one of the founders of Moz, Rand Fisken.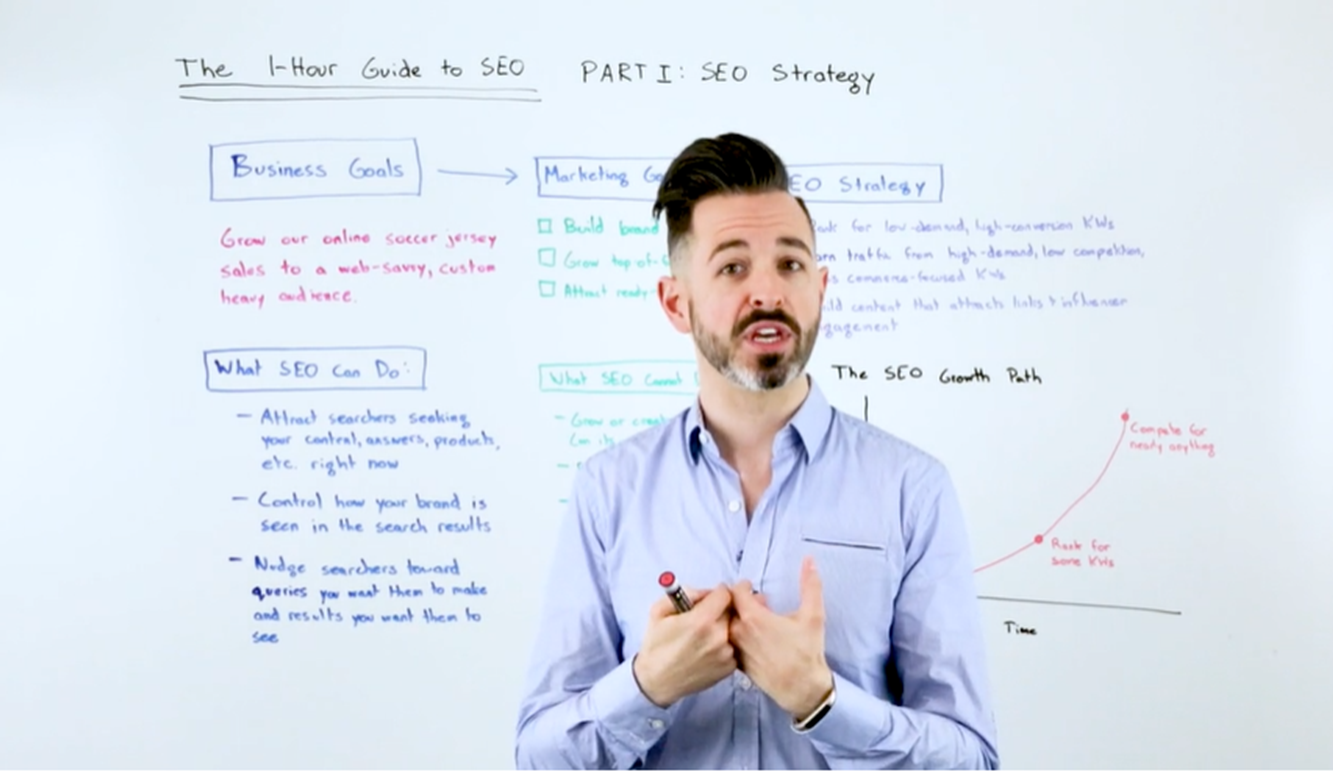 The course is a video format consisting of 5 lectures that give you extensive knowledge about SEO from one of the best presenters. The lectures cover making action plans, how to use social profiles for SEO, Targeting keywords, link building, and linking keywords to content.
It helps you improve your website by attracting traffic. Every company has there own approach to SEO. It could be a broad or general understanding or a specialized focus. This course helps you with website optimization.
This course covers almost all aspects of SEO and has quite valid and up to date information. It is designed for marketers of all levels whether beginner or advanced. It is free and just a click away so sign up right away.
This training course by SEO is highly valued among marketers. Tommy Griffith, who is the former SEO manager at Paypal and Airbnb is the presenter of this course. ClickMind provides you with crafts and resources to build up your SEO skills. It is not just any other course you can take lightly. Almost 60% of the people fail in the first attempt to get this certification.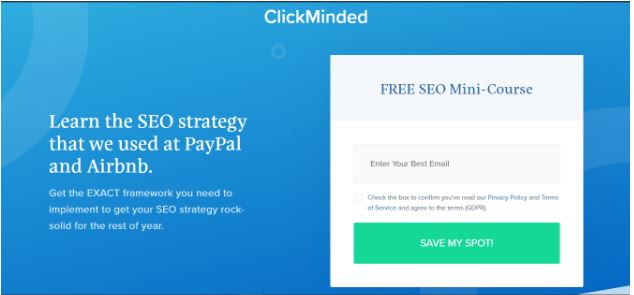 Save your spot and sign up for free for the mini SEO course. This free trial gives you access to the first portion of the multi-part course on SEO. You can take this session and decide if the course is what you are looking for. If it meets your criteria, get an update, and take advantage of the full course.
The full course costs you $997 which includes bonuses and additional resources apart from the lectures. However, you can also set up a joint account that gives access to up to 5 users if you are a part of a large firm or company. This course has over 6000 students. In other words, this is one of the popular online course for SEO.
In other words, this course teaches you to produce 10X more traffic from google. That is to say, it gives you an idea of how to approach the whole SEO process. This course familiarizes you with different areas of SEO strategy. For instance, it includes on and off-page optimization, keyword strategy, technical optimization, algorithm updates, and competitive analysis. You may count it as one of the best online courses for SEO in the market.
A Comprehensive Guide to SEO is also a good read in this regard.
This course by Shopify is a little different than the other courses. It is not a general SEO course but it targets online store owners. This course helps them increase quality traffic to their store, in turn, generating revenue and profit for the store. This is one of the best online courses for SEO when it comes to e-commerce.
It is a free course comprising of 7 video lectures presented by Helen Overland. She is an expert on SEO from Search Engine People. Most importantly, the videos are quite interesting and keep you hooked up till the end, they are not very long either.
This course helps you to learn to generate organic traffic. This is where the success of any company lies. It covers the e-commerce area of your store and teaches keywords research, site structure, and on-page SEO.
This is another free course which is offered by Hubspot. Most courses on this list are the beginner's course. However, this course is different from them. Before taking this course, you must have some basic knowledge of SEO. It has a variety of concepts, therefore,  one must have a foundation understanding of SEO.
The course is presented by a variety of lecturers. The lectures cover different topics. For example, finding the correct strategy for your business, how to scale up your link building, use of blogs to rank top on google, and creating an SEO powered guest blogging campaigns.
This SEO course has 6 lessons compromised of 22 videos. Apart from the lessons they have self-evaluation quizzes and multiple guides, resources, and templates that are extremely helpful. Moreover, you also get a certificate if you pass the final test.
This course drastically improves your SEO skills and your website. Most importantly, it teaches you tactics used by Hubspot blog team about how they increase their organic traffic. The examples given by the presenters are the best part as they help you understand the process easily and rapidly.
Pro Tip: Before selecting a course, go through the course outline and check if it aligns with your objective of learning SEO.
SEMRUSH is a leader in providing SEO tools by its online learning academy. The 2 best courses by the SEMRUSH academy are the On-page and Technical SEO course and the other one is the SEO toolkit course. Both of these are free courses and teach you the technicalities of SEO.
On-page and Technical SEO Course
This course helps you with the two aspects of SEO that you can completely control. Subsequently, by taking this course you can learn how to improve your SEO skills in On-page and Technical SEO and leverage that to your benefit.
This course has 2 parts and includes the following topics
Your website's SEO audit
HTTP issues fixation
Creating content that is SEO friendly
Troubleshooting Crawlability issues
Improving on-page SEO
How to perform log file analysis
This is an easy and free course. One big advantage of this course, however, is that you learn how to use one of the best SEO tools in the market i.e. SEMRUSH. Moreover, you can take a test at the end and get a certification if you desire.
SEO Toolkit Course
This course comprises 3 sections and which are termed the learn, build, and measure modules. There are many topics covered in these modules, for instance, keyword targeting and research, understanding and analyzing organic traffic, SEO content analysis, Reporting of SEO, and On-page SEO.
Previously, you could go on in the field of SEO without the use of proper tools. However, with the advancement in the field when there is so much data to analyze, it is impossible to so without advanced tools. Therefore, this course teaches you different stages of SEO and how to use tools by SEMRUSH at every step.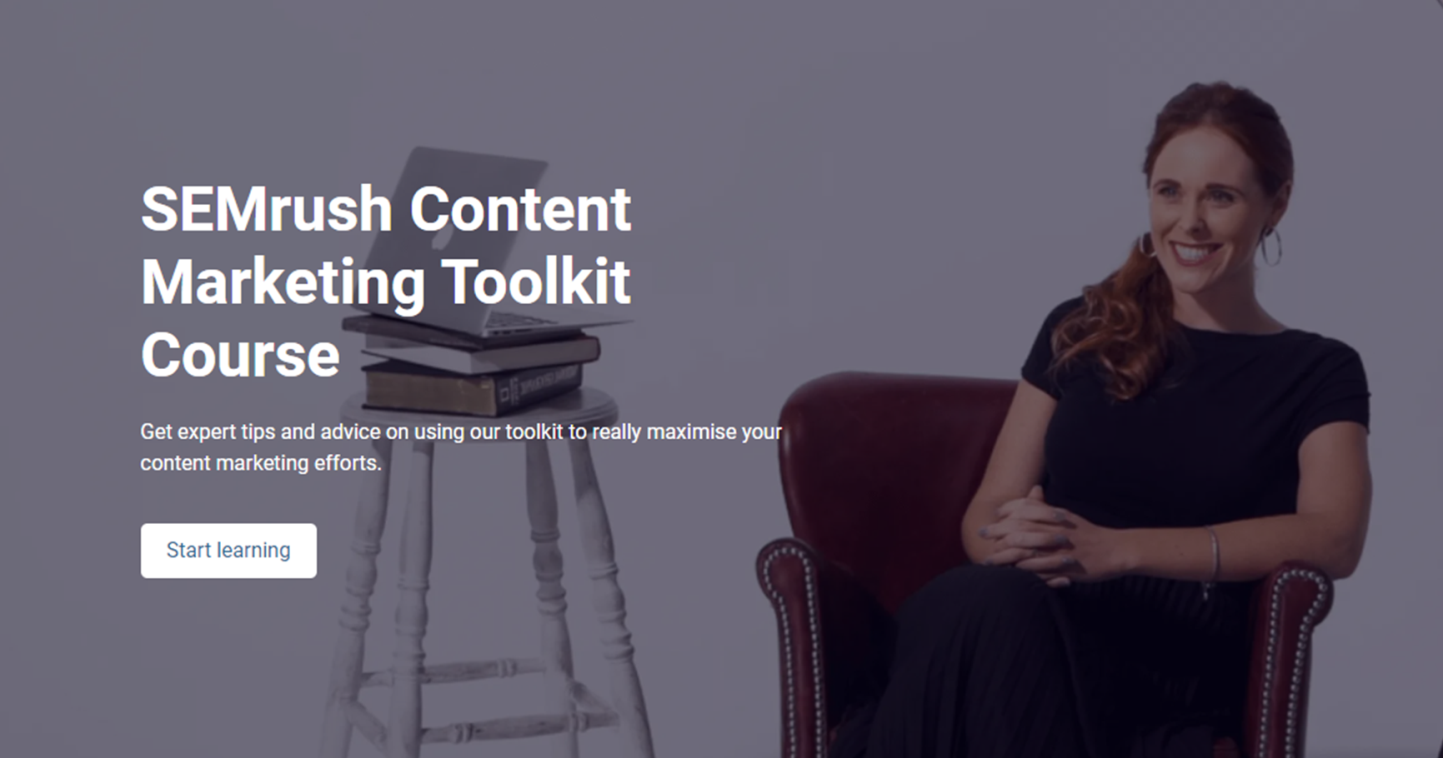 This course is provided by one of the most popular platforms for online courses that is Coursera. It a very famous online training academy that provides a wide range of digital marketing courses. This course familiarizes you with  SEO tools and strategies, and most importantly, this is affiliated by the University of California
It is a comprehensive course that takes you from beginners to expert level. Firstly, the step by step guide starts with very basics and leads up to the most advanced SEO tools. Secondly, it gives you the ins and outs of SEO and is a must take prerequisite if you are serious about SEO.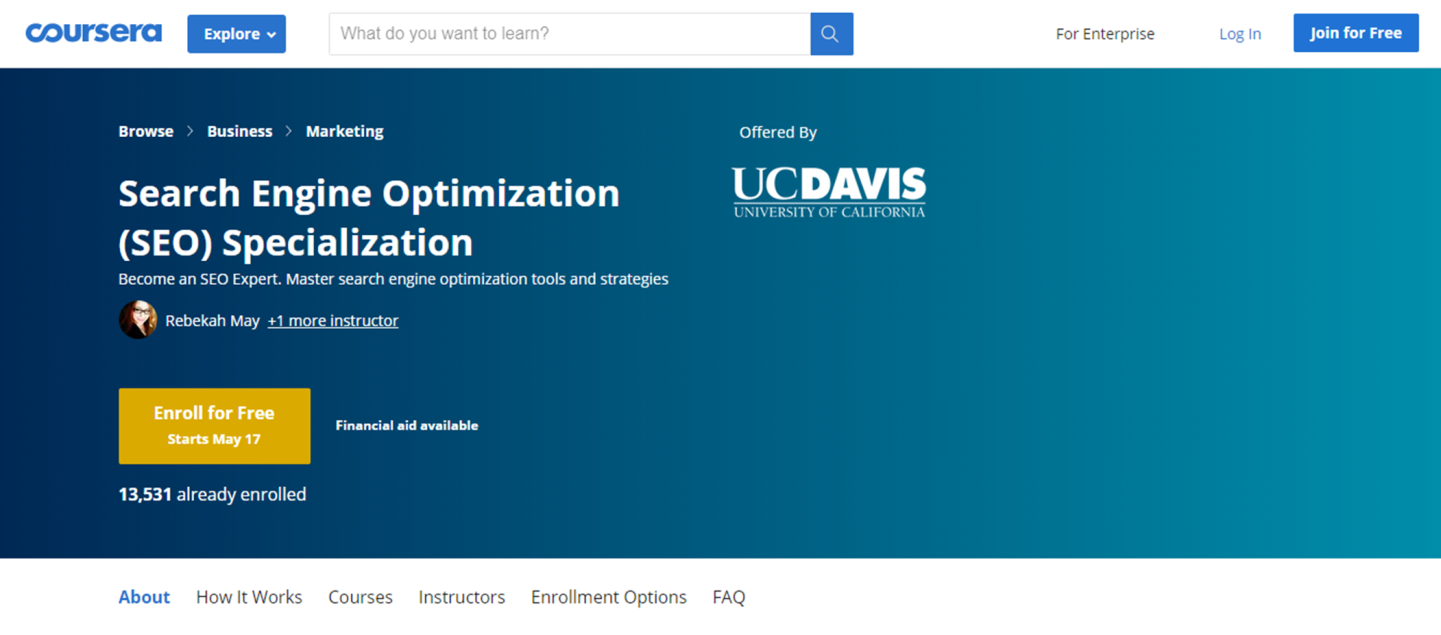 Upon enrollment, you get a 7 day free trial period. The course is spread over 6 individual courses. These online courses for SEO are as follows:
Introduction to SEO
Fundamentals of SEO
Website optimization for SERP
Advanced SEO optimization Tactics
Advanced SEO strategies
A final report presented to a client of your findings and recommendations
The number of currently enrolled students for this course is 13,531. This course helps stand out in your career. Therefore, the career outcomes of this course are exceptional, 75% of people started a new career after this course and 25% got a promotion or raise after the course.
Although it is a free course, you can access a few premium courses with a payment. Rand Fishkin, who is known as the "Wizard of MOZ" is the presenter of this course. He is the most popular SEO instructor on the internet. People just adore him for his traditional style.
He uses a whiteboard and has a demonstrative teaching style. The trainer uses common queries by marketers to familiarize you with the problem of SEO and their solution, therefore, making it simpler for students. He provides all the necessary tips and tools in his engaging style to get you on top of your game.
It is a 1-hour course divided into 11 video lessons. The major areas covered by this course are as follow
It helps you rank higher in search engine result pages by teaching you link building strategies
It teaches you on-page SEO optimization to improve your website and user experience
How to optimize your website for mobile, the best policies
Content optimization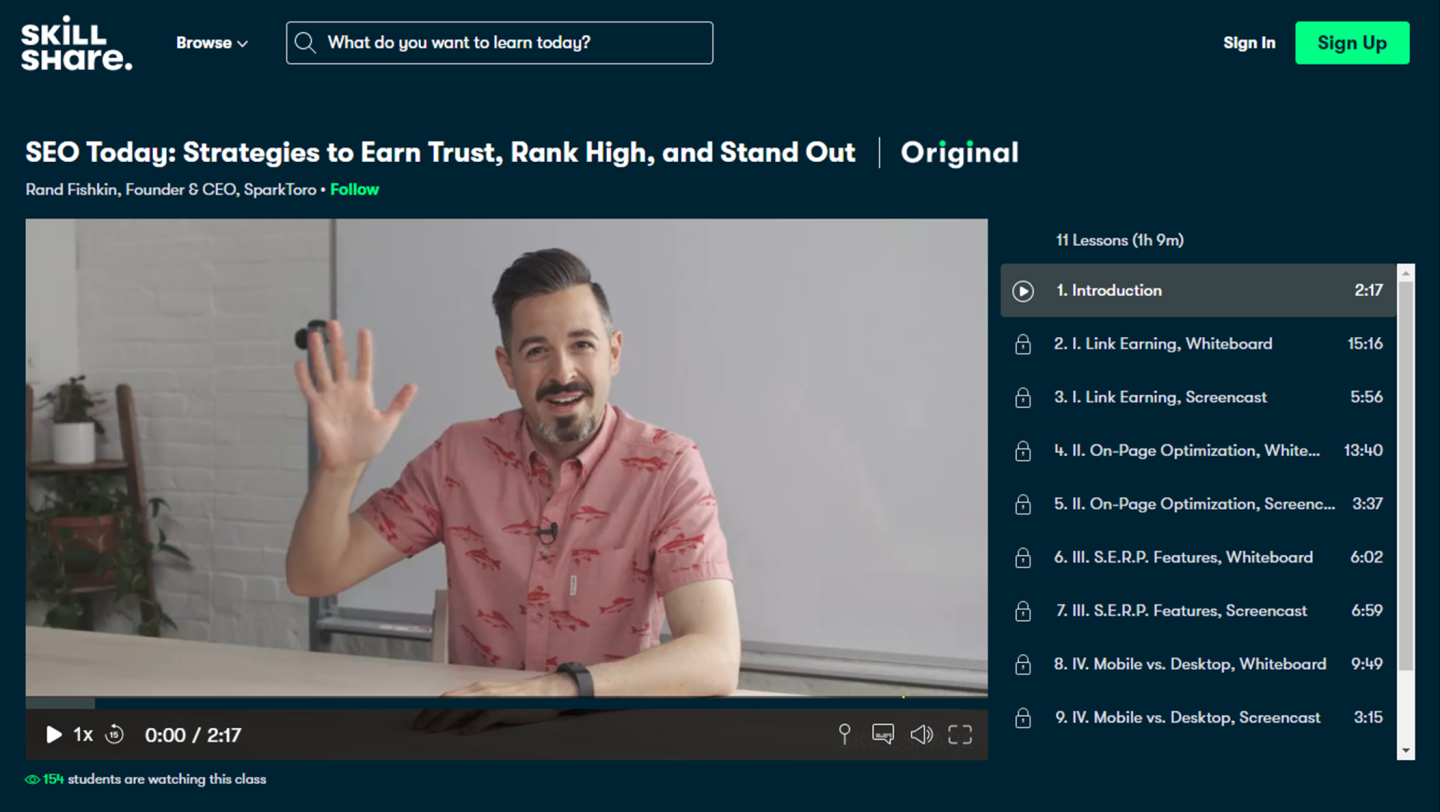 This class is the best for people with a background SEO understanding. It provides you many useful resources. For example, checklist, links, resources, and tools for consultation any time you need. There is no registration or enrollment, just a click on the video and you will get going.
Conclusion
In this world of digital marketing, knowledge about SEO will definitely be useful. It helps you grow your online business. These courses help you understand the direction in which Google is going and how can you keep up with it. You can take advantage of the additional resources, tactics, tools, and links to grow your understanding of SEO.
In short, in this blog, we have tried to provide you with the best online courses for SEO available at the moment. Even the paid courses are not very expensive. In a nutshell, this list provides you with all sorts o options whether you want to learn the basics or excel in the field of SEO. You can learn at your own pace as per your affordability and availability.
As per a few different sources, above mentioned are the 8 best courses you can take to enhance your knowledge of SEO. If you think there is a better course and we have missed it, let us know in the comments below!